( I ) Current Account Opening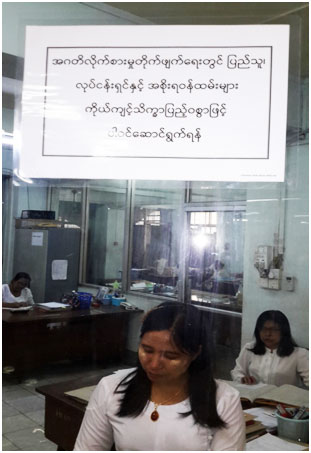 Current Accounts are able to be opened in local currency (Kyat) in the following types of account
National Company Account
Foreign Company Account
Foreign Investor (Company) Account
Joint Venture Corporation Account
Co-operative Account
National Individual Account (or) Joint Account
Foreigner Individual Account (or) Joint Account
Required documents for opening of a current account (Kyat) are the same with those for account opening of a current account (foreign currency). Kindly see the pages under the heading "Required Documents for account opening in Foreign Currency" for information in details.
Certified Cheque Service
To avoid the risk of carrying large amount of cash and to make safe and secure payment, current account holders of the Bank are able to use Certified Cheque. By using Certified Cheque, the payee has an advantage to avoid cheque dishonor by the bank due to insufficient balance occurred in the drawer's account.Service Fee is K 0.05 for Cheque amount K 1000 (Minimun K 1000, Maximun K 5000).